Noisechan & Nugget: Adventures in Chiptunes
Noise Channel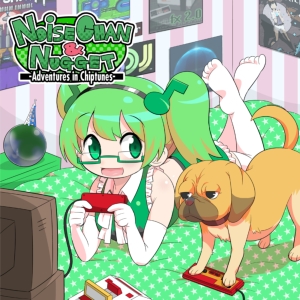 April 13th is Nugget's 5th birthday. In celebration, he has contacted many of his chiptune friends and asked that they contribute a track to a Noise Channel compilation album. Amazingly, they said yes!
After many months of organizing, planning, and composing, Noise Channel is pleased to present 'Noisechan & Nugget: Adventures in Chiptunes'! This album is a chiptune compilation from some of the best artists from across the globe.
---
Noise Channel is a weekly radio show featuring chiptunes from around the world. Kris 'TrueStar' Kaufman hosts and her husband, Jake 'virt' Kaufman produces the show. Their puggle, Nugget, is unquestionably the real star and fan favorite. Listen to Noise Channel on Thursdays nights at 10PM Eastern on Arecibo Radio.
Track listing
virt — Noise Channel Theme (Full Mix)

TQJam — Promise

coda — Can't Stop Our Noise

Hally — Bgrusko Meow

Rekcahdam — Catch That Girl, She Stole My Heart!

Fearofdark — Noisechan Inspection Team: On the Case

Norrin Radd — Rejection

Surasshu & Aivi Tran — Midnight Stroll

virt — The Artichoke King

an0va — It's Only A Doghouse Right?

Heosphoros — Forbidden Hell

Blitz Lunar — Hidden Heaven