Remastered 2021
Fearofdark's debut Motorway is a signature chiptune album that definitely stood the test of time since its release in 2012.
The remastered version was a project that lasted for more than two years. Every track was carefully re-mixed and re-mastered from the original sources to get the sound aligned with Exit Plan, Fearofdark's significant follow-up to Motorway.
"Motorway was my first full album back released back in 2012. It was pretty much my first 'large scale' music project. Almost all of it was written before I went to university, and much of it encapsulated the anticipation, excitement and anxiousness of leaving home and moving somewhere new. I didn't realise it at the time, but this album also helped me realise the 'digital fusion' style.

Even though I now feel a considerable distance between myself and this album, it was an important part of my development as a musician, and I'm glad to share this remastered version with everyone"

— Fearofdark.
Credits
Fearofdark:

Composer, Producer

Taylor Crisdale:

Artwork

MmcM:

Mixing, Mastering
Original Version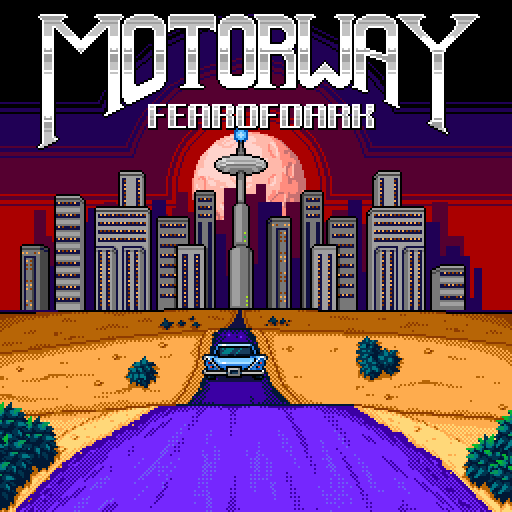 Motorway is a debut album by Stephen Hemstritch-Johnston aka Fearofdark. The jazz and funk grooves composed with changing times and new adventures in mind, taking inspiration from the fact of moving away from home, and being away from family for the first time in life
"Motorway is my first full chiptune album. Instead of mixing formats, or simply putting together a compilation of songs I've already released, I decided to work on a pack of "new" tracks, with a couple of the old "classics" thrown in there.

I chose to write in the .xm format, and decided to use ModPlug tracker to make these songs; this was the first program I used to make music on a computer, and so I felt like my debut release should naturally be made using this program.

A lot of big changes have happened this year, both in my life and in the world. The biggest one for me was leaving home to go to university. In that respect, I feel like "Motorway" is an appropriate title. Heading towards a new destination.

Thank you's go to Ubiktune, for helping me through this process. Megus for mastering. Jordan for the awesome artwork, Truestar, Virt and noise channel, everyone who gave critique on tracks and previews. The many, many chiptune artists and musicians whose music continuously blows my mind, and anyone who takes the time to try listening to my music"

— Fearofdark.
Credits
Fearofdark:

Composer, Producer

Jordizzle:

Artwork

Megus:

Mixing, Mastering
ALL RIGHTS RESERVED
℗ 2012 Fearofdark
© 2012 Fearofdark
Track listing
4
Rolling Down The Street, In My Katamari
7
An Age Of Planetary Pride