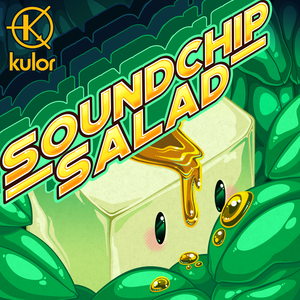 Credits
All music composed and produced by Richard Armijo
Artwork: KJones
Mastering Engineer: Sergey Kosov
Soundchip Salad is the culmination of half a decade of research and development. It's the first in a series which showcases every soundchip in its purest and most distilled form. This album marks the beginning of Kulor's journey into hardware hacking old keyboards and programming for retro consoles. Every track is playable on actual hardware, with minimal post-processing and no external effects.
Tools used: Famitracker for NES and expansions, GoatTracker and sngtweak.prg for C64, FM-Kingtracker for OPL3, MTV Music Generator for PS1, Audacity for Casio and microKORG rendering, Anvil Studio and Sony Acid Pro 7.0 for Casio and microKORG sequencing and track layering.

Shoutout to: Maxo, kfaraday, Jusu Tengu and Fearofdark for the awesome remixes. Kyra for the fantastic visual design work. MmcM for the wonderful masters. C-jeff for Ubiktune. Virt for inspiring me all those years ago at GDC. Shnabubula for the constant source of inspiration, the years of webhosting, and of course the name of the album. Kattywampus for the voice work, and in addition to noti, Piegar and Tim, for FYGAR which has been instrumental in keeping me active in music. And of course, Ari for standing by me through it all.
Track listing
The Recovery

(03:08)

NES, 2A03

StillPlayingMario.Nsf

(04:05)

Commodore 64, 6581 SID

Warpdrive Engage

(03:36)

N163 Solo

Flowers

(02:34)

NES, VRC6 + 2A03 Noise & DPCM

Ellis Island Disco

(03:29)

NES, VRC7 + 2A03 Noise & DPCM

Classic Space

(04:07)

Adlib OPL3

Our Time Machine Works!

(02:44)

PlayStation 1

Sample Me Again

(01:42)

Atari 2600, TIA

Love & Heartbreak in Chm102

(03:11)

SawCutter 2.0

Princess

(02:50)

GXSCC

Blend-O-Matic 2000

(02:57)

Casio VL-1

How Your Grandparents Met

(04:01)

Casio SK-60

Rasterbars and Greetscrolls

(03:54)

microKORG

The Sawblade Factory

(02:39)

SNES

A Stroll in My LeSabre

(03:06)

Commodore 64, 6581 SID

Big Win Mega Win

(02:22)

2x Pokey

Butterscotch Drops of Lime (Maxo Rockmix)

(02:18)

My First Ubiktune Remix (Kfaraday Remix)

(01:39)

Thiefarly Slumlabor (Jusu-Tengu Remix)

(03:48)

Cyberhero Disco (Fearofdark Remix)

(02:49)