"This is a compilation of various tunes I wrote between 2008 and now, most of which used to be on 8bitcollective (RIP). Every track is playable on actual hardware, with minimal post-processing and no external effects.
Tools used: Famitracker for NES, LSDJ for Gameboy, MOD2PSG2 for Sega Master System/Game Gear, Raster Atari Tracker for Atari Pokey, Paul Slocum's Atari 2600 Music Kit, GoatTracker for Commodore 64, FM-Kingtracker for OPL3 and Anvil Studio, Sony Acid Pro 7.0 and Audacity for DX-7 rendering and track layering.
Shoutout to: lunar, jrlepage, heosphoros, rushjet1, an_cat, miau, willow, nys, shnabubula, coda, reduz, \, xaimus, skitch, kattywampus, b00daw for engaging people (like me) in 2600 music, 4mat and zabutom for helping me figure out the C64, mint for being better than he thinks he is, C-jeff for Ubiktune, Rufus for the awesome artwork, Megus for mastering and especially virt for suggesting the idea. Ironchew, Miga, Yustin, Soda, Stabs, Ashurei and the rest of notwlm. This is not Soundchip Salad.
Frothing hatred to: Jose for letting it die, Atari Teenage Riot for Blood In My Eyes"
— Kulor.
My First LSDJ

(2:13)

Gameboy MGB

Butterscotch Drops of Lime

(2:15)

NES VRC6 + 2A03 Noise/DPCM

Boyfriend and Girlfriend

(3:27)

NES 2A03 + MMC5

Tim Follin Tries Curried Eggs

(3:32)

NES 2A03

Thiefarly Slumlabor

(2:45)

NES 2A03

Space Disko

(2:26)

NES 2A03

Pachelbel's Pirate Ship

(1:59)

NES 2A03 + FDS

Nintendo Entertainment Samba

(2:30)

Sega Game Gear

Snofer's Infiltration Mission

(2:18)

Sega Master System PSG

Lobbyists

(1:40)

Atari 2600 TIA

Electric Starbounce

(2:45)

Commodore 64 6581 SID

Elementary School Supernova

(1:48)

Atari 800 Pokey

Random Encounter

(3:08)

Atari 800 Pokey

Madness Sky Falling Etc.

(2:35)

Atari 800 Pokey

Cruisin' Mah '95 Pimpmobile

(2:31)

Adlib OPL3

I'm No Cyberhero

(2:38)

Adlib OPL3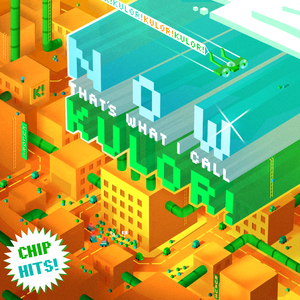 Info
Catalog:

UBI052

Release date:

October 21st, 2012

Duration:

43:09
Downloads
* Downloads include a special unlisted bonus track
Name your price and support Kulor via his personal Bandcamp page
Download the original source files