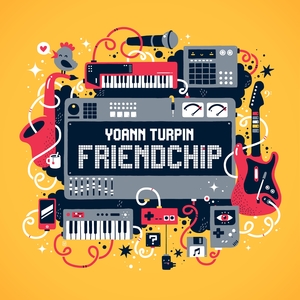 Download
Yoann Turpin is back!
About a year and a half passed since his previous Ubiktune album, the adventure-based Chip Ship, and almost two years since his debut effort Rhythm'n'Bits. Now, with FriendChip, Yoann decided to pay tribute to his friends and fellow musicians that he met since his first release on Ubiktune. He also invited some of them to take part on the album.
FriendChip is a tribute to DJ Cutman ("Fair Play"), C-jeff ("Presch'Influence (Part 1)", "Presch'Influence (Part 2)"), Robbie Buchanan ("Sensei Alpha"), Diode Milliampere ("Lighting People (Chiptune Version)"), Slikk Tim ("Slikk Time") and Yoann's fiancee ("It Was a Dream").
Created with Korg synths: Kronos, M3 and Polysix Emulation. Also: Alesis Micron, Yamaha EX 5, Roland Juno D and Nordlead 2X for the chip parts, Akai MPC 1000, Kaossilator Pro and Reaper.
Tracklist
Are You in Tune?

(04:00)

FriendChip Overture

(04:47)

Lightning People (Chiptune Version)

(03:43)

Beating the Bits (feat. Mathieu Demange)

(04:29)

Presch'Influence (Part 1)

(6:39)

It Was a Dream

(2:41)

Slikk Times

(4:26)

Fair Play

(3:48)

Never Ask Why

(4:51)

Swords and Spears (feat. Joe Cimatti)

(3:18)

Bright Side of the Game (feat. Pierre Cocq-Amann)

(4:24)

Sensei Alpha

(3:34)

Presch'Influence (Part 2)

(4:37)

Final Bit on the String (feat. Jean Pascal Boffo)

(9:46)