Preschtale Variations
Ubiktune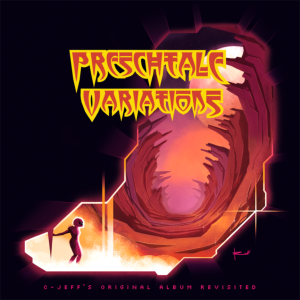 Credits
Project Director:

Dmitry Zhemkov

Mastering Engineer:

Roman Petrov

Artwork, Trailer Animation:

Rufus Blacklock
It's been a year since Seajeff's Preschtale was released, and today we present to you a new part of the story, Preschtale Variations.
The album consists of 16 songs and features performances and covers based on the original album. Over one hour in length, Variations includes a long list of genres and sounds, from chiptune and electronic renditions to metal and acoustic pieces.
"Variations started as an experimental project, which lasted nearly a year of creation, passing through different twists and turns. But now, it is complete. It was a great pleasure to work with such an amazing group of musicians, who helped me to bring this dream to life. I thank you all!" — Seajeff.
Track listing
Jay Tholen - Skyward Revelation (Preschtale, Parts 3-5-7)

Zackery Wilson - Inner Force (Preschtale, Part 2)

coda - An Extraterrestrial (Preschtale, Part 6)

Stemage - Purple (Preschtale, Part 2)

Pongball - SNEStale (Preschtale, Parts 2-4-5)

Fearofdark - Fresh Tale (Preschtale, Part 3)

subPixel - Fire Witch - The Silence (Preschtale, Part 6)

PROTODOME - Emergency on Planet Mars (Preschtale, Part 4)

Monomer - Danger Zone (Preschtale, Part 2)

surasshu - True North (Preschtale, Part 3)

Aivi Tran - The Girl in the Nebula (Preschtale, Part 5)

El Mobo - Doppelbanger (Preschtale, Part 6)

Yoann Turpin - Preschlude Kadenz (Preschtale, Part 4)

Maxo - Shining Faith (Preschtale, Part 7)

Shnabubula & Gabe Terracciano - Quinine (Preschtale, Part 3)

C-jeff - Preschtale, Epilogue (feat. Aivi Tran)