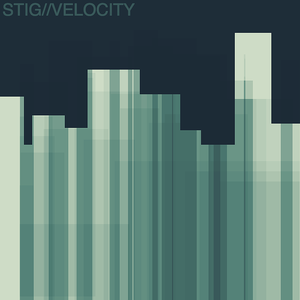 Download
Velocity is the first Stig solo release since 2013's ambient work Hydrocycle. A single album length composition in two parts, Velocity is not about speed, it is about movement and displacement.
The music moves through a number of styles and forms, blending classic game sounds with prog rock, fusion and electronic dance music, developing and evolving as it moves forward, only looking back to realise how far it has come.
It plays out as one big cinematic night time adventure in the city, with music that takes you through nightclubs, city streets, motorways and busy plazas, where the city is defined and laid out before you but the journey is yours and yours alone as a listener. This is music intended with the scope of a video game, a world for you to exist in and make your own, but set in the real world, an adventure for your ears within the great adventure that is your life.
A purely electronic work diligently programmed one note at a time, setting the classic chipsounds of the MOS Technology SID and YM2612 against the vintage electronic drums of the Roland TR-909 and a contemporary rock and dance sound, Velocity is not merely nostalgia, but music truly for 2015 and for everyone who has grown up in the classic era of gaming.
Velocity is the 28th chapter of Stig and his first for Ubiktune.
Credits
Written and produced by Stig (Stephen Patterson)
stigmusic.com
Soundcloud
Twitter
Facebook
YouTube

With thanks to C-jeff, High Reactive (TFN//SF//PJE), Deathpodal, Charity Queen, Joseph Curwen, FREESFX.CO.UK, SONNISS.COM and Anothony Dixon
Track listing
Velocity, Part One

(22:29)

Velocity, Part Two

(26:58)