Marshall Art
Marshall Art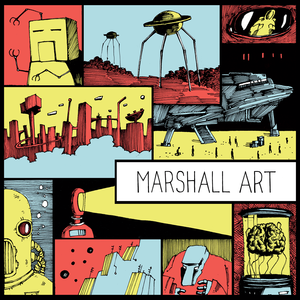 Credits
All songs by Jeffrey Roberts / Mikhail Ivanov.
Except "They're Like Locusts" by Jeffrey Roberts / Mikhail Ivanov / Guerin McMurry.
Additional vocals on "Marshall Art" by Cory Johnson, Cydran, C-jeff, destoo, Erik Peabody (Viking Guitar), GearX2, Harmsing, Hoodie, Janx, John Schock, Katamari, Level 99, Mama Ryn, Masha Zalivanskaya, Monte, Multi-Memory Controller, norg, Ryn, Travis Morgan, ViridianForge and zyko.
Mixing and additional production by Cory Johnson.
Cover art by Andrei Karlin.
Marshall Art would like to thank Andrei, brodan, Cory, Dino, Dmitry, Emily, Guerin, Hoodie, Remy, Legacy Printing & Design, pixie druid, The Shizz, Mandy and Masha.
Download
Stream
Follow Marshall Art
Marshall Art is a transatlantic band made up of Jeffrey Roberts from Canada and Mikhail Ivanov from Russia. Combining the cold structural beauty of NES chiptunes and the hot energy of live guitar, they play instrumental music influenced by post-rock, progressive rock, ambient and various electronic genres.
Track listing
Papercut You Into Little Pieces

(05:21)

Asteroid Driller

(06:11)

They're Like Locusts (feat. spamtron)

(05:52)

Nothing Can Be Fixed Here. God, Burn!

(05:42)

Marshall Art

(19:19)