Make Music, Throw Music: A Yoshi's Island Tribute
Various Artists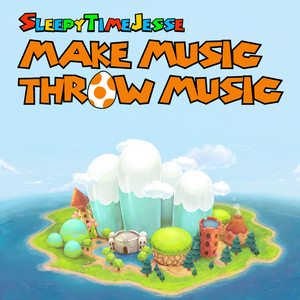 Downloads
The Yoshi's Island soundfont that was used in the creation of this album.
Join Yoshi on a new adventure! Swing, fly, and dive into the mysterious caverns of the island where new baddies await!
Make Music, Throw Music is a compilation of artists paying homage to the music of Nintendo's Yoshi's Island (SNES). All music is composed using the new Yoshi's Island soundfont ripped and compiled from the game by William Kage.
Track listing
sleepytimejesse — Athletic

(1:28)

fluidvolt — Show Me The Ropes!

(2:03)

Monobrow — Yoshi In The Sky With Fuzzies

(1:58)

William Kage — Sunbathing

(2:02)

posu yan — Happy Grape Does The Rain Dance

(2:03)

sleepytimejesse — The Fun Aquatic

(1:31)

Maxo — Tip Tip Bonus Stage!

(1:38)

Toby Fox — Daffodil Petals

(2:32)

Pongball — Buttstomp Romp

(3:42)

Maxo — Perfect Goal: Clear!!

(0:50)

posu yan — Munchin' On Cookies

(1:50)

sleepytimejesse — Yoshi's Egg Bossa

(2:06)

Joshua Morse — Lily Pad Grotto

(2:16)

starfixer — Cavern of Mystical Maize

(2:14)

William Kage — Dark, Damp, Dank!

(1:38)

sleepytimejesse — Brimstone's Bone Cavern

(1:43)

Maxo — Waxy Cave

(2:13)

Toby Fox — Terrapin Tower

(3:15)

Maxo — RipRip's Castle

(2:38)

sleepytimejesse — Battling Brimstone!!

(3:27)

William Kage — Naptime

(0:51)

sleepytimejesse — Music Box

(1:23)