Seven Journeys to a New Home
Kartmaze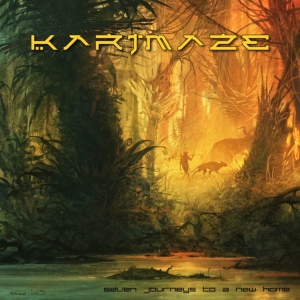 Downloads
Bandcamp ($5)
(a bonus track and the original 4096px artwork are included)
Seven Journeys to a New Home is Kartmaze's debut album as a chiptune artist. It contains of seven chiptunes inspired by progressive rock and -metal bands such as Dream Theater, Rush, Tool and lots of other great prog bands.
A very special thanks to:
Family and friends who have been supporting me and my music over the years; Henrik who challenged me to make my first chiptune; my former bandmates Ragnar, Geir Marius, Osmund and Arve for being the reason to create a lot of the material in the first place; Nick and his great patience; C-Jeff for inviting and welcoming me into the Ubiktune family; the Chipmusic Heroes crew for being awesome and supportive; and last, but not least, my cousin Nikko and his amazing artwork.
Software and gear used:
- Cockos Reaper
- Plogue Chipsounds
- LTD MH-1000NT Deluxe (track 7 only)
- Boss GT-10 (track 7 only)
- Additional bonus track plugins: LennarDigital Sylenth1 and Sound Magic Piano One.
Credits
Written, arranged and produced by Mads Aasvik (aka Kartmaze)
Mixed by Nick Dawes at E-Mixing Studio
Bonus track mixed by Mads Aasvik
Mastered by Tommy Sevart (soundcloud.com/thunder_fox)
Artwork by Nikolai Lockertsen (lockertsen.net)
Track listing
Brownout

(08:04)

Dr. Wolf's Secret Laboratory

(05:36)

Agravaine's Legacy

(09:44)

Jetpack Ride

(02:51)

Exoskeletor

(09:38)

The Rise of Zeus

(08:41)

Nothing Remains the Same

(07:10)