Parallel Processing
Danimal Cannon and Zef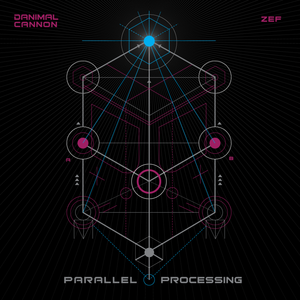 Credits
Tracks 1, 2, 3, 4, 7, and 8 made using 2x LSDJ
Tracks 5 and 6 made using 1x LSDJ
Tracks 1, 2, 3, 7, and 8 by Danimal Cannon and Zef
Track 5 by Zef
Tracks 4 and 6 by Danimal Cannon
Mixed and mastered by Danimal Cannon
Art by Jon Kay of fangamer.net
Parallel Processing is a brand new long-awaited joint effort by Danimal Cannon and Zef. Both masters of Gameboy sound, they spent the better part of last year to work on the album and created an unique combination of styles and writing techniques.
"This project began as something of an experiment. I heard a Gameboy track by Zef soon after the completion of 'Roots', and was immediately blown away by the complexity and sound design work. I said to myself: "I want to be able to make those sounds". I had also purposefully limited myself on 'Roots' to using a single Gameboy. I didn't want to stifle my programming potential and creativity by removing the polyphony limitations of a single gameboy.
For this record, I wanted to take the Gameboy sound to the extreme. Link two gameboys together, join forces Justice League style with the best programmer I could find, and mix and master with all 8 channels isolated and seperately processed. I didn't want to make a just a chiptune record. It's an electronic music record, it's a prog record, it's... something we're pretty proud of whatever it is. What I do know, is that at the end of this year long creation process, we're better musicians than we were at the start of this project. Getting to work with a contrasting (yet complementary) style has rubbed off on me, and I think it's rubbed off on him.
For this record, we included the save files as we have with all of our previous albums (Go get them). We want to give you the same ability to grow as a musician and programmer as we've been able to. We're fans too, we just want more great music out there"
— Danimal Cannon.
Track listing
Logic Gatekeeper

(04:58)

Legacy

(05:17)

Chronos

(04:29)

Rhapsody

(06:12)

Glitch

(05:47)

The Lunar Whale

(04:35)

Corrupted

(06:16)

Parallel Processing

(08:28)