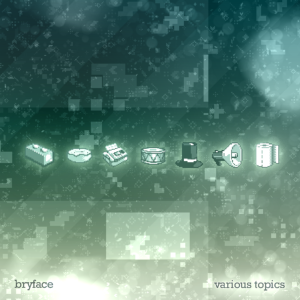 Download
This album of Game Boy tunes aims for a uniquely illustrative approach to chipmusic, resulting in a sound that is lush, nuanced and full of vitality.
"Various Topics" consists of several all-new tracks from bryface, as well as remastered and/or expanded versions of selected previously-released songs.
Each song varies wildly in style and theme, but expect a few elements to be shared in common: chunky, intricate grooves. Meticulous sound design. Lyrical melodies that evoke a decidedly old-school demostyle flair. Stunning washboard abs. But more importantly, this album hopes to take you beyond the technical details into less tangible emotional territory — into the peculiar, the saccharine, the oddball, and just maybe, the surprisingly profound.
Talk and read more about the making of Various Topics here: bryfacetunes.tumblr.com
Tracklist
shifting platforms

(03:21)

rich bastard groove

(06:02)

talk of the town

(05:18)

seaport

(03:21)

portsea

(05:58)

disk 3 of 977

(05:22)

BRAINS. and scotch

(02:31)

turning point

(02:15)

the tuvan ascendancy

(07:23)

multicolour

(04:47)