7bit date: robot love
beek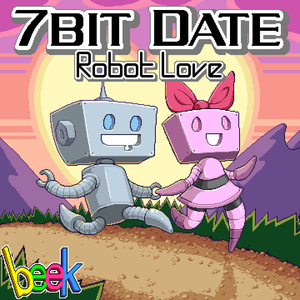 "7bit date: robot love is a collection of chips I began tracking in 2008, with one song reaching as far back as 1998. In 2008, having recently graduated from university, I reexamined my chiptune past and decided to get back in the game. Life carried on, and years later, I remembered my original goal of a new chipdisk release.. Here we are today, 2012!
For 7bit date, I didn't limit myself to traditional chip sounds. I make use of Amiga ST-XX samples in a few tracks — a process which rekindled some of my imagination, as I remembered this or that MOD from back in the day with each Amiga sample I came across. Another characteristic of my chips is to use no external/post-processing effects, just some occasional Schism filters, so the original .IT files will reproduce pretty close to the MP3.
All in all, folks can look forward to a varied collection of chippy goodness: funky, poppy, videogamey, with a splash of reggae and hiphop in a couple tracks"
— beek.
Track listing
pyramidium

(2:19)

archipelago

(3:29)

lunar FREAK on)

(2:12)

omega, omicron

(3:20)

(robot) luvr's rock

(2:20)

rearrraaange

(0:39)

CHECK(me out)SUM

(2:32)

3rd circuit reggae

(2:00)

funknium

(3:50)

doomkatek

(0:49)

circuit break

(3:03)

don't let 'em

(4:21)