SuperByte 2013 — chiptune & 8 bit arts weekend
Posted on February 4th, 2013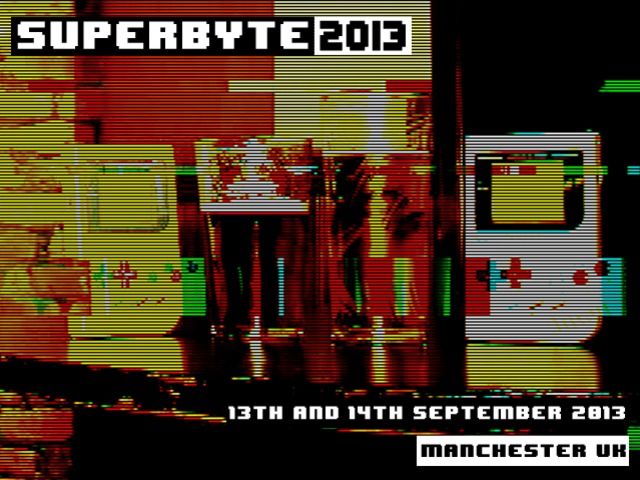 SuperByte Festival 2013 is a chiptune and 8 bit art festival, that will take place in Manchester, United Kingdom on the 13th & 14th of September. In September 2012 the first event of SuperByte took place. It was a musical and cultural event, held at Manchester in the form of an all day micromusic and retro gaming festival, the largest of its kind in the UK. It attracted visitors from all over the UK and Europe.
While the first SuperByte was organized by MegaByte, this year they team up with CalmDownKidder (promoters of Liverpool's successful Chipfest events) combining the two festivals to bring a bigger, bolder and bleepier event what may become a cornerstone in the international chipmusic scene.
The organizers promise two days of live chipmusic, micromusic and 8 bit inspired artists, an open stage segment, live visuals and glitch art throughout the day, retro gaming free play and big-screen tournaments, a retro-tech market area, film screenings, workshops and circuit bending demo's and much more.
Currently announced artists include such a big names as Sabrepulse Official, gwEm and video game/demoscene icon Mark 'TDK' Knight. Don't miss the show, especially if you live in or near the United Kingdom.
You can help and support the event by pledge via SuperByte's Kickstarter, which will be up to 25 days more. Incentives for people to donate include cheap pre-order tickets, t-shirts designed by top Finnish bloke KeFF, exclusive tracks by Superbyte Artists, as well as a LSDJ cart containing tracks by Superbyte Artists.